If you're one of the millions of Australians suffering from knee pain caused by arthritis or an injury to the knee and you're not getting adequate relief with conservative treatments, then surgery might be the right option for you. Dr Chandrasekaran, MOATI's lead Orthopaedic surgeon, offers patients the opportunity to have the latest in joint replacement surgery.
So if you're fed up with experiencing joint pain, contact us today to find out more about a robotic knee replacement. Melbourne locals can access this latest technology, which ensures patients experience less pain after surgery, have a shorter hospital stay and even faster recovery.
What is a robotic knee replacement?
A robotic knee replacement involves the use of a computer to generate a 3D model of your knee before using robotic systems to determine the precise bone cuts, alignment and prostheses sizes needed for surgery. Dr Chandrasekaran still carries out all aspects of the surgery itself and the robot is used for assistance during bone cuts and implant positioning.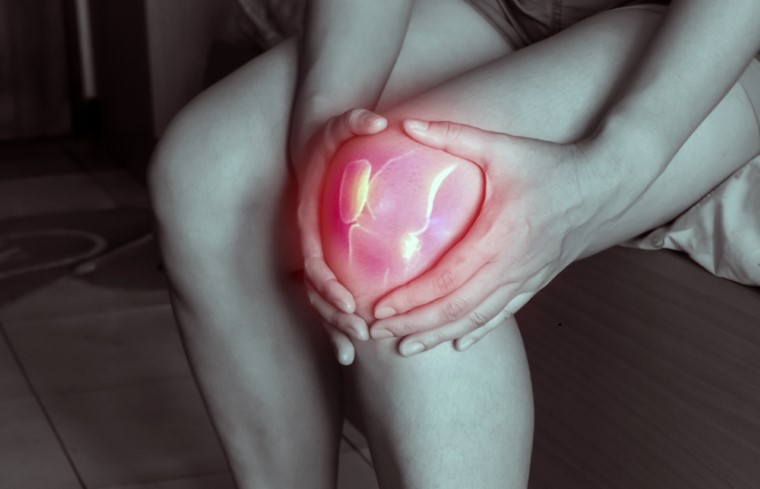 Both a robotic partial knee replacement and total replacement are available with this technology.
What causes the need for surgery?
Osteoarthritis is the most common reason that surgery is needed but it may also be needed as a result of other forms of arthritis or damage to the knee joint due to trauma. If all 3 main compartments of the knee are affected, it's likely your surgeon will recommend a total robotic knee replacement.
Indications you need a robotic knee replacement
If the below describes your situation then you could be a good candidate for robotic-arm assisted surgery:
Severe knee pain or stiffness resulting from: noninflammatory degenerative joint disease (including osteoarthritis, traumatic arthritis, or avascular necrosis), rheumatoid arthritis or post-traumatic arthritis
Those who haven't experienced adequate relief with conservative treatment options, like bracing, medication or joint fluid supplements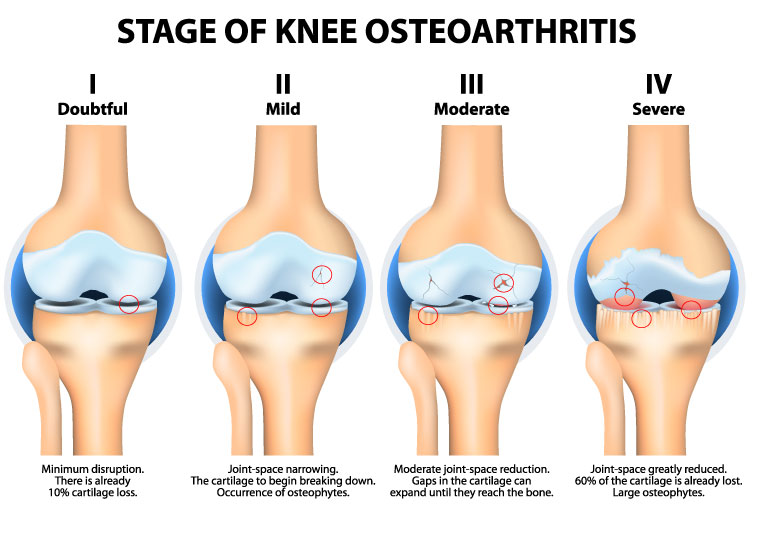 The severity of your knee condition will determine which form of robotic surgery you require.
Benefits of having the surgery
There are many benefits of having the robotic-arm assisted surgery:
More accurate bone removal and implant placement, which may result in improved outcomes and functioning of the knee
Less pain in the days and weeks following surgery
Shorter hospital stay
Quicker recovery, where 9 out of 10 patients were walking without an aid, such as a cane or walker, three weeks after surgery
91% of patients are satisfied or very satisfied 5 years after surgery
How do robotic knee replacement surgeries in Melbourne work?
If you decide to have your surgery with us at MOATI, this is what you can expect:
Before surgery, a CT scan of your knee joint is taken in order to generate a 3D virtual model of your unique anatomy. The 3D model helps Dr Chandrasekaran's team see things they can't typically see with an x-ray alone. This additional information helps Dr Chandrasekaran's team determine the optimal size, placement and positioning of your implant.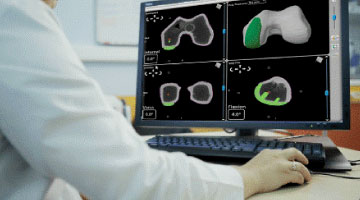 Throughout your procedure, Mako provides real-time data to Dr Chandrasekaran. This allows them to continuously assess the movement and tension of your new joint, and adjust your surgical plan if desired.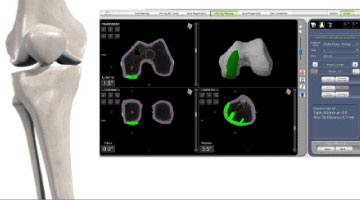 In the operating room, Dr Chandrasekaran guides the robotic arm to remove the arthritic bone and cartilage from your knee. The Mako System creates a virtual boundary that provides tactile resistance to help Dr Chandrasekaran's team stay within the boundaries defined during the planning process.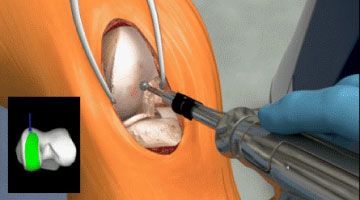 With the diseased bone gone, your implant is placed into the knee joint. Then it's off to the recovery room to begin your journey to strengthening your new joint.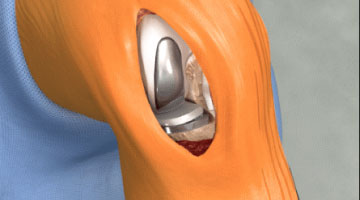 How much does robotic knee replacement surgery cost in Melbourne?
The total cost of a robotic knee replacement in Melbourne will vary from clinic to clinic and will also depend on the extent of the damage to your knee and which procedure you require. Dr Chandrasekaran will be able to provide full details of the personal cost to you at your initial consultation.
Why choose MOATI for your surgery in Melbourne?
At MOATI we understand that for some patients, even though it may be daunting, surgery may be their only option to relieve pain and improve function. That's why we pride ourselves on our patient-centred approach to quality care and ensure that we work closely with you to devise the most effective personalised pre-operative plan, suited to your individual needs.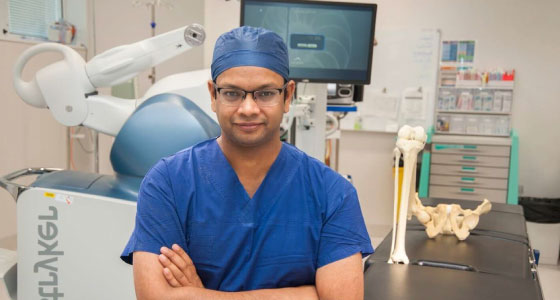 Dr Siva Chandrasekaran
Dr Chandrasekaran is a highly regarded, extremely experienced orthopaedic surgeon and a specialist in joint replacement surgery. He is committed to caring for each patient as if they were a professional athlete, using the same meticulous approach to ensure they can return to their regular daily activities as quickly as possible.
FAQs
If you have any more questions regarding robotic knee replacement surgery in Melbourne, please don't hesitate to contact us today. Our most frequently asked questions may also provide you with any additional information you need.
Any surgical or invasive procedure carries risks but as long as it's carried out by an appropriately qualified surgeon, the surgery is considered very safe.
Yes, robotic surgery can be used for both a partial and total knee replacement. Your surgeon still performs the procedure but the difference is, that it's done with assistance from a robotic arm.
There are no significant disadvantages of having robotic-assisted surgery. However minor disadvantages include additional preparation time and the fact that the robot cannot identify soft tissue.
Before surgery, a CT scan of your knee joint is taken in order to generate a 3D virtual model of your unique anatomy. This gives your surgeon even more accurate information than a traditional  X-ray enabling them to determine the optimal size, placement and positioning of your implant.