If you're one of the thousands of Australians suffering from pain caused by arthritis or an injury to the hip joint and you haven't experienced adequate relief from other more conservative treatment options, then joint replacement surgery might be right for you. At MOATI we utilise the latest medical technology to ensure patients receive the greatest possible care.
So if you're fed up with experiencing joint pain and looking for a solution that will enable you to once again enjoy your everyday activities, contact us today to find out more about a robotic hip replacement. Melbourne locals can access this latest technology, which ensures patients receive the most accurate placement and alignment of hip implants.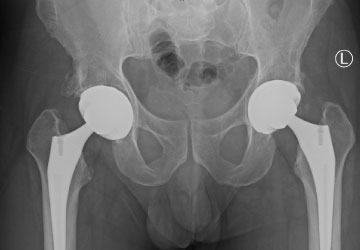 If you have degenerative problems in both hips, it's sometimes possible to have both hips replaced at the same time. This is known as bilateral or simultaneous total hip replacement.
What is a robotic hip joint replacement?
The surgery involves the use of a computer to generate a 3D model of your hip, before using a robotic arm to prepare the acetabulum to the appropriate depth and to put the cup in the desired position. Dr Chandrasekaran still carries out all of the other aspects of the surgery itself and the robotic arm is used to ensure the most accurate placement and alignment of hip implants.
What conditions can be treated with the surgery?
If you're suffering from any of the following conditions then robotic surgery could be suitable for you:
Rheumatoid arthritis
Fractured hip
Avascular necrosis
Dysplasia
When are robotic hip replacements recommended?
A robotic hip replacement operation is recommended for people with:
Severe hip pain or stiffness resulting from: noninflammatory degenerative joint disease (including osteoarthritis, traumatic arthritis, or avascular necrosis), rheumatoid arthritis or post-traumatic arthritis
Those who haven't experienced adequate relief with conservative treatment options, like bracing, medication or joint fluid supplements.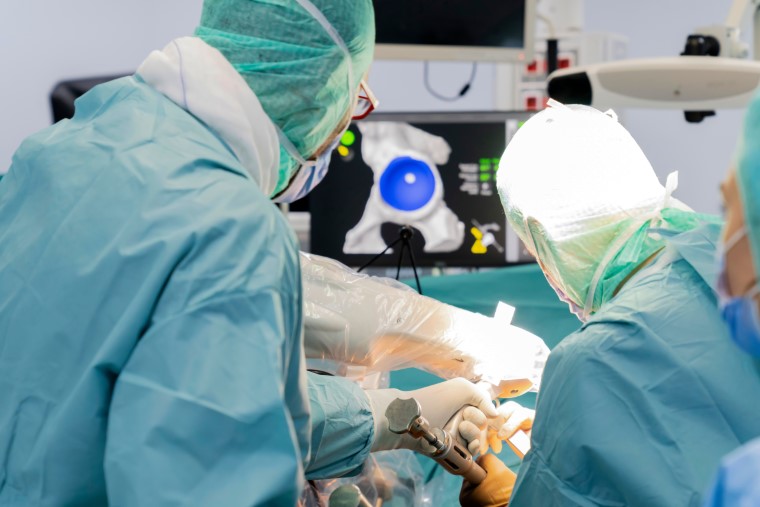 MOATI uses MAKO technology for both a robotic total hip replacement and a robotic total knee replacement.
What are the benefits of having the surgery?
There are a number of benefits of having robotic-assisted surgery for your planned hip replacement:
More accurate placement and alignment of hip implants compared to conventional acetabular cup placement
Achieving desired hip length with greater accuracy
Less likelihood of hip dislocation
Reduced blood loss
Replication of the feeling of a natural hip
Preservation of healthy bone
How is a robotic-assisted hip replacement performed in Melbourne?
If you decide to have your surgery with robotic-assisted techniques at MOATI, this is what you can expect:
Before surgery, a CT scan of your hip joint is taken to generate a 3D virtual model of your unique anatomy. The 3D model helps Dr Chandrasekaran's team see things they can't typically see with an x-ray alone. This additional information helps Dr Chandrasekaran's team determine the optimal size, placement and positioning of your implant.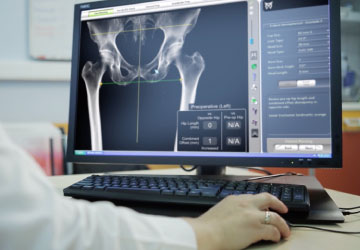 Throughout your procedure, the computer provides real-time data to your orthopaedic surgeon. This allows them to continuously assess the movement and tension of your new joint, and adjust your surgical plan if needed.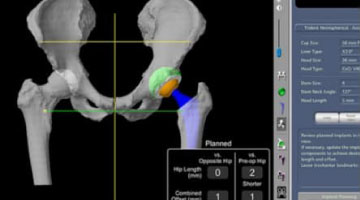 In the operating room, your surgeon guides the robotic arm to remove the arthritic bone and cartilage from the hip. A virtual boundary provides tactile resistance to help the surgeon stay within the boundaries defined in your surgical plan.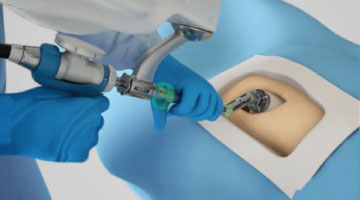 As the surgeon prepares to place the implant into its final position, the robotic-arm guides the implant at the desired angle defined in the surgical plan. This ensures the most accurate hip length and placement and alignment of the implant.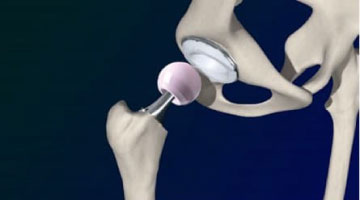 How much does robotic hip surgery cost in Melbourne?
The total cost of a robotic replacement in Melbourne often varies depending on several factors, including:
The extent of damage caused to your hip
The cost of your appointments
The price of the surgeon
The price of the anaesthetist
The price of any recovery attire
At your initial consultation, Dr Chandrasekaran will be able to give you an accurate breakdown of costs for your procedure.
Why choose MOATI for your surgery in Melbourne?
We at MOATI will always work closely with you to devise the best treatment plans suited to your individual needs. We pride ourselves on our patient-centred approach to quality care and our commitment to ensuring we're using the latest techniques and technology to ensure you're receiving the best possible treatment.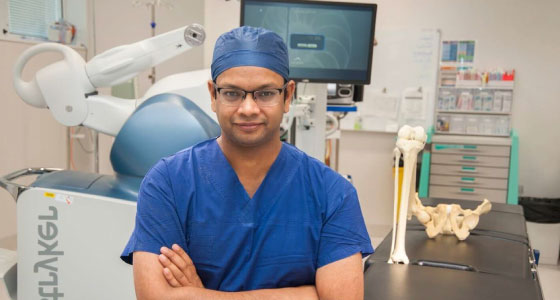 Dr Siva Chandrasekaran
Dr Siva Chandrasekaran is a highly regarded and extremely experienced orthopaedic surgeon. He has trained extensively around the globe and is passionate about innovations in medicine. He has been published over 50 times and continues to search for the newest and best treatments available.
FAQs
If you have any more questions regarding robotic hip surgery in Melbourne, please don't hesitate to contact us today. Our most frequently asked questions below may also provide you with any additional information you need.
Yes, a robotic mako hip replacement is very safe. The precise movements of the robotic arm allow for even smaller incisions, causing minimal damage to the surrounding tissues.
Yes, robotic hip surgery is considered slightly more efficient than a normal hip replacement, as the robotic techniques allow for more accurate acetabular cup and component positioning.
Due to the recent developments in the technology, the data is still being gathered. However, the increased precision of the robotic-assisted computer navigation, means that the prosthesis could potentially last 20 to 30 years rather than the current 10 to 20.
Robotic assisted hip surgery is considered a minimally invasive surgical procedure due to the small incisions. However it's not less invasive that traditional hip surgery that doesn't use a robotic arm.
Before surgery the robot provides the surgeon with a 3-D model to pre-plan the patient's procedure and during surgery, the surgeon guides the robotic-arm to help remove the diseased bone and position the implant.
The only potential but very rare complications of robotic hip replacement surgery are the risk of nerve damage and compression and in even rarer cases, the possibility of a robotic malfunction.
The good news is that you'll be able to walk around with assistance the same day as surgery. You may experience some pain and discomfort but you will see physical and occupational therapists who will help you learn how to move safely with with minimal pain
The kind of prosthesis used in robotic hip surgery is exactly the same as a standard hip replacement prosthesis. The only difference is how the surgery is performed, the implants used are the same.