Are You Suffering From Hip Pain or Knee Pain?
You may not require surgery as there are a variety of evidenced base non-surgical
methods to treat hip and knee arthritis and sports related injuries.
Considering Surgery for Hip and Knee Arthritis?
Sometimes surgery is the only option to relieve pain and improve function in patients with hip and knee arthritis. However, advancements in hip and knee replacement techniques, pain management and rehabilitation may lead to shorter hospital stays and faster return to day to day activities.
MAKO Robotic hip replacement
MAKO robotic partial knee replacement
MAKO robotic knee replacement
Direct anterior approach for hip replacement
Direct superior approach to hip replacement
Have You Suffered a Sporting Injury to the Hip or Knee?
Learn about possible solutions:
Hip labral tear
Hip Impingement
Anterior Cruciate Ligament Injury
Meniscal Tears
Patellofemoral Instablity
Robotic surgery
Dr. Chandrasekaran performs the first knee replacement with the Mako SmartRobotics device
A new robot is providing a helping hand to surgeons replacing knees at St Vincent's Private Hospital in Werribee.
The long-anticipated arrival of the Mako SmartRobotics device took place at the hospital last week, and it's already busy assisting with orthopaedic surgeries. Funded by well-known philanthropist Alex Cilmi and his family, the Mako SmartRobotics enables orthopaedic surgeons to better tailor hip and knee replacements to their patients, resulting in less blood loss and reduced recovery time after surgery.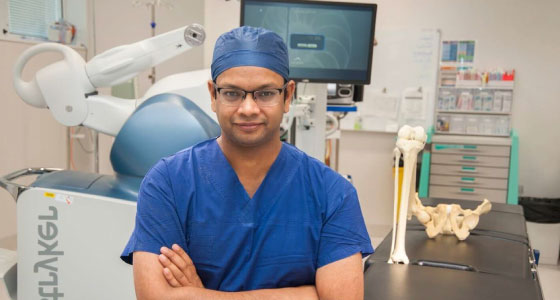 Dr. Siva Chandrasekaran is a highly trained Melbourne Orthopaedic Surgeon with a special interest in the treatment of hip and knee pain. He has completed prestigious fellowships in the United Kingdom, United States and Switzerland.
He has published 50 articles on hip and knee replacement and hip arthroscopy. Dr. Chandrasekaran is committed to caring for each patient like a professional athlete, using the same meticulous approach to restore them to top-level performance in sports, work and day-to-day life.