What makes a mobile bearing hip so different?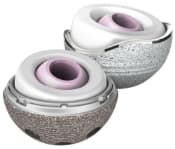 To help alleviate your hip pain and get you moving again, Dr. Chandrasekaran may use the Mobile Bearing Hip System designed to help prevent dislocation.
The Mobile Bearing Hip System features X3 Precisely Engineered Polyethylene that may enhance joint stability, provide a more natural range of motion, and minimize the risk of wear that may help prolong the life of the implant.