If non-surgical treatments like physical therapy and medication don't bring relief, Dr. Chandrasekaran may recommend hip replacement. Considered one of the most successful orthopaedic innovations of its time, hip replacements have been performed for more than 125 years. The procedure involves removing the arthritic ends of bone and damaged cartilage and replacing them with prosthetic implants designed to move like a healthy hip.
What happens during surgery?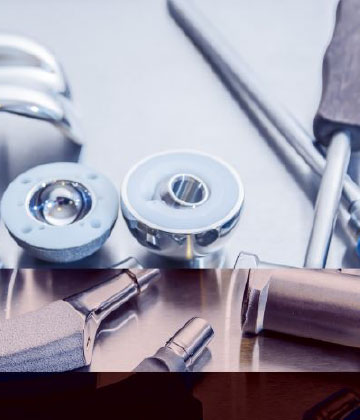 During total hip replacement (also called total hip arthroplasty), a surgeon removes the arthritic ball end of the femur (top of thigh bone) and inserts a metal component (a stem) into the bone. The surgeon also replaces the hip socket with an acetabular cup lined with durable polyethylene plastic.
Even with total hip replacement, you have options. Talk with Dr. Chandrasekaran about robotic-assisted surgery and muscle-sparing approaches to hip replacement that are designed to minimize the impact of surgery on your soft tissue and bone.
Joint replacement is generally very safe and effective but there are some important risks to consider.